Dog Licensing
The Franklin County Auditor's office is pleased to offer online licensing services. Ohio law requires dogs to have a valid dog license. Many dogs are found each year wearing a valid dog license, but the address or phone number in our records is outdated. In order to aid in the return of dogs to their owners, the Auditor's office provides a found dog search feature. It is important to keep your owner information current by renewing your license, updating your owner information, or by licensing a new dog.
Renewal Deadline
March 31, 2021
If a renewal license is not purchased by March 31, 2021, the annual fee will double, unless you have acquired your dog and/or moved to Ohio within the last 30 days.
Obtain a Dog License
Log in for access to all of your dog licensing needs!
Purchase a new dog license
Renew an existing dog license
Update your address or phone number
Update your dog's information
Dog License Info
On-Time
Late
Spayed or neutered, or exceptions apply
1 year
$18
$36
3 year
$54
$72
Permanent
$180
$198
Not spayed or neutered, no exceptions met
1 year
$35
$70
3 year
$105
$140
Permanent
$350
$385
What information do I need to register?
Owner information: name, address, phone number, valid e-mail address
The dog's current rabies tag number (if dog is 3 months of age or younger, a rabies vaccine is not required for the purchase of a license)
Credit or debit card information
Found a Lost Dog?
All stray or lost dogs within Franklin County are brought to the shelter to be reclaimed by their owners.
Call 614-525-3400 to report a found dog (24 hours a day).
Dog Tag Search
Use our dog tag search to find the owner's information.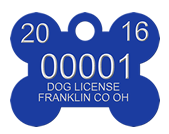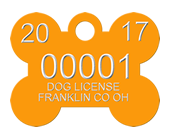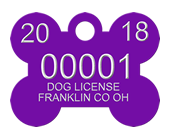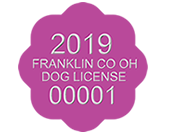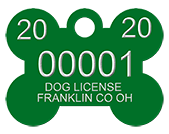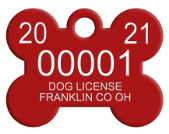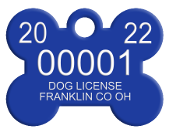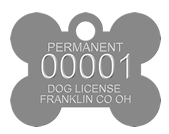 NOTE: Changes made on this site will be posted the following business day.